Which Nozzle is Best for My Application?
The are two types of nozzle available. Both have their own advantages depending on the application.
Fan-tipped Nozzles
This is the most widely used spray foam nozzle as it produces a flat wide spray pattern useful for covering large areas quickly and evenly.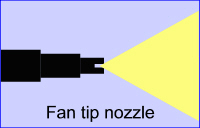 Use this nozzle for
Insulation of large areas e.g. lofts, walls, roofs, barns
Insulating self storage containers
Cone Nozzles
This nozzle is ideal where a more concentrated jet of foam is required. The pattern is cone-shaped and is ideal for smaller areas. Ideal applications include: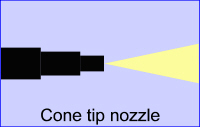 Filling joints and voids e.g. cold stores
Cavity walls (when used with plastic tubing)
Repair jobs e.g. refrigerated transport containers, dormer windows
Unusual architectural applications
Narrow batten spacing
Plastic Injection Tubing
Plastic injection tubing is used in conjunction with the cone nozzle for injection into cavities, voids and moulds. The tubing is cut into short lengths (max 50cm) and pushed over the end of the nozzle. The tubing reduces the velocity of the foam and allows the user to control the direction of the foam by bending the tube down into a cavity