Spray Foam in Cold Storage Construction
Most cold storage facilities or cold rooms, are constructed from pre-fabricated insulated panels. These generally lock together with cam-lock fittings.

Inevitably, gaps do form at some joints and where electrical conduits, drains and refrigeration pipes enter the room. These joints must be sealed with an appropriate closed cell foam sealant material to maintain the overall insulation integrity of the room and prevent the ingress of moisture and the subsequent formation of ice patches.
In large cold storage facilities, the roof panels have to be supported along their length to prevent them bowing. Where this involves using a threaded rod and support plate, a gap is formed which runs the length of the panel. This gap requires insulating and sealing in order to maintain the insulation integrity of the cold room.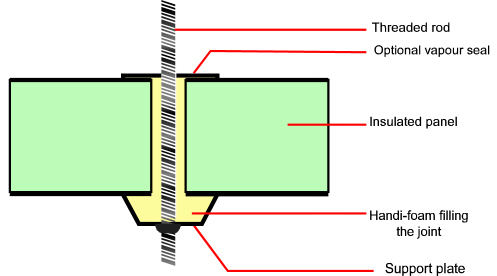 Why use Handi Foam?
Handi Foam is an expanding foam insulating sealant which is available in handy kit form with an integrated foam gun. The kits are available in several sizes to suit the size of the project. The sprayed foam expands to fill gaps and seals and insulates at the same time. Advantages of the Handi Foam system are:
Quick and easy application of the foam allows your engineers to save time sealing during construction.
The foam cures quickly and can be cut back within 5 minutes. The foam cures chemically unlike single can aerosol systems which require moisture to cure.
No power is required as the expanding foam packs are self pressurised
The spray foam kits are portable which makes them easy to use especially on cold room ceilings.
The foam sealant produced is an exceptionally good insulator with a k value of 0.024W/m.k
The foam sealant has a closed cell structure and exceptionally low permeability, unlike single component aerosol foam sealants which have an open cell structure and will absorb moisture.
Handi Foam has a B2 fire rating in accordance with DIN 4102
To find out more about Handi Foam portable spray foam kits, please follow the links on this page to visit the Handi Foam products and prices page.